Doctors & Staff
Meet the experienced and friendly doctors and staff who make Dr. Lynn Burford the leading provider of vision care products and services in Indianapolis.
---
Lynn Burford, O.D.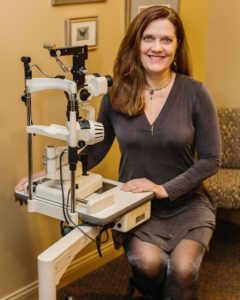 Dr. Lynn Burford graduated from Indiana University School of Optometry in 1990 after having earned a B.S. in biology from I.U. in 1986. She has always felt that the private practice modality allows the best opportunity to provide top notch primary eye care combined with truly caring, personal service. She first entered practice as an associate in a private practice. Seven years later Dr. Burford opened her own solo practice. In September of 2006 she moved to 10485 N. Pennsylvania Street. She is a member of the American Optometric Association, Indiana Optometric Association, and the Central Indiana Optometric Society. She volunteers by providing free eye care at the Trinity Clinic in Carmel and participates in VOSH(Volunteer Optometric Services to Humanity) to provide eye care and glasses to people in developing countries. Dr. Burford is passionate about traveling, nutrition and gardening. She lives in Westfield with her husband Paul and their three cats.
---
Meet our Staff
---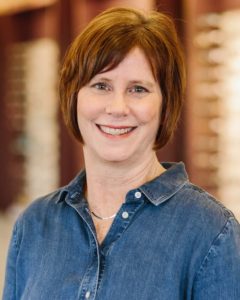 Belinda Meehan
Belinda, Optometric Technician, graduated from Indiana University with an Associates Degree in Optometric Technology. Joining our team in 2000, she is one of our main technicians and is a wealth of knowledge in handling the insurance for the office. Her work background has included extensive training in contact lenses. She will guide you seamlessly and informatively through the pre-test process. In her free time, Belinda enjoys camping, hiking and cycling with her family.
---
Denise Kirk
Denise started her optical career in 1991 and joined our practice in 2010. She excels in all aspects of patient care so you may see her at the front desk, in the optical, pretesting or working patiently with first-time contact lens wearers. It is her goal to ensure all patients have a positive experience in the practice. In her free time she enjoys reading and family time.
---
Kim Peters
Kim joined our practice in 2014 as our resident optician and frame buyer. She has over 20 years of experience in the optical industry. Her style is eclectic, and she frequently likes to explore boundaries with her creativity and love for eyewear. During her free-time she likes to take on various volunteer projects involving the community. She spent 3 years volunteering at Trinity Free Clinic, traveled to Honduras for VOSH; a medical eye mission, and most recently she volunteered with NODA at Eskenazi Hospital.
---
Amy Bucci
Amy attended Louisiana State University and graduated from Ball State University with a double major in Fashion Design and Fashion Merchandising and Marketing minor. She began working in optometry in 2011. She is the friendly face that greets you as you walk in the door and often the voice you hear on the other end of the phone. Amy also keeps up our office Facebook page. She loves cat eye glasses and her cat, Boss.
---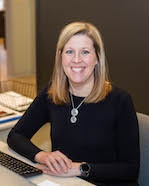 Stacie Heidegger
Stacie graduated from Iowa State University with a Fine Arts degree in Interior Design. After working in primary and secondary education design and then taking time off for family and volunteering, she joined the office in 2018. As a patient of Dr. Burford's for twenty years, she now joins the staff on the other side of the desk to greet you and help answer your questions. In her free time, she enjoys family time, reading and following Drum Corps International.